Make Up Your Mind (German: Bildmachen) promotes the critical media competence of young people in dealing with extremist speeches. Experiences of racism and exclusion are also addressed by Islamist actors. Often, however, they offer a polarising world view as a response, which distinguishes between a "we Muslims" and a "they non-Muslims".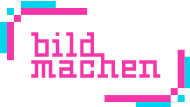 In order to reach precisely those young people for whom these arguments might be attractive, a simple counterattack is not enough. The projects approach is therefore to give young people a space in which they themselves can develop alternative answers to experiences of discrimination and racism, but also to religious and worldly issues. The young people learn to express their ideas in the form of GIFs and memes – a suitable means of effectively engaging in online discourse and finding like-minded people beyond the workshop.
The project offers workshops for teenagers and young adults between 14 and 21 years of age and further training for teachers and educational staff.
Currently tree different workshops are offered:
Module 1 – Media Competence: How can we help young people in everyday educational life to assess and evaluate information?
Module 2 – Extremist contents: What do hate comments have to do with extremist positions and what can be done about them?
Module 3 – Empowerment: How can young people create their own media content on complex topics in a short time?
Material for school discussion / workshops is available.
More information is available in German.
---